Seizoen 17 - 25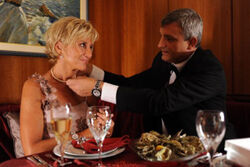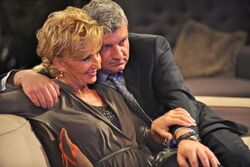 Marie-Rose en Mathias leerden elkaar kennen dankzij een modeshow die Marie-Rose aan het organiseren was. Ze wou hiervoor de scheepswerf van Mathias afhuren en zo leerden ze elkaar kennen. De twee groeiden naar elkaar toe en Marie-Rose beseft al snel dat Mathias wel eens de man van haar leven zou kunnen zijn.
Elke relatie heeft zijn dieptepunten en ook Marie-Rose en Mathias kunnen hierover meespreken. Niet zo lang nadat ze een relatie begonnen, liep het al fout. Mathias was een zeer druk zakeman met weinig tijd voor Marie-Rose. Het komt uiteindelijk tot een breuk.
Wanneer ze later terug elkaar tegen het lijf lopen, besluiten ze om hun relatie toch nog een kans te geven. Alles verloopt beter en Mathias maakt iets meer tijd vrij voor haar. In 2012 ontstaan er relatieproblemen dankzij Caroline De Meester. Mathias denkt dat Marie-Rose een affaire heeft met Dirk Cockelaere en later verdenkt Marie-Rose hem ervan om een affaire te hebben met Caroline. Het is pas enkele maanden later dat alles weer goed komt tussen de twee. Na alle relatieproblemen in 2012 gaat het weer goed tussen Mathias en Marie-Rose. Mathias beseft nu pas echt dat ze de vrouw van zijn leven is en hij vraagt haar ten huwelijk.
Jaren later begint Mathias een affaire met Trudy Tack de Rixart de Waremme. Wanneer Marie-Rose hen betrapt tijdens een hevige vrijpartij, vraagt ze de scheiding aan. Gedurende het 25ste seizoen beslist Marie-Rose haar vertrouwde omgeving te verlaten en naar het buitenland te verhuizen, weg van Mathias en de rest van de familie.
Foto's
Trivia
Voor meer informatie over hun huwelijk, zie hier.
Ad blocker interference detected!
Wikia is a free-to-use site that makes money from advertising. We have a modified experience for viewers using ad blockers

Wikia is not accessible if you've made further modifications. Remove the custom ad blocker rule(s) and the page will load as expected.