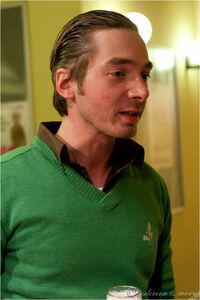 Michael Vroemans
 (1977) is een Vlaamse acteur. Hij is vooral bekend als
Maarten Van den Bossche
uit Familie.
Persoonlijk Leven
Hij studeerde moderne talen aan het Sint-Gregoriuscollege en vertrok daarna naar het Koninklijk Conservatorium Gent, waar hij zijn diploma Master in de Dramatische Kunsten behaalde. Hij heeft één zoontje.
Televisie
Michael had zijn eerste grote rol te pakken in 2001. Hij speelde Tim Sneyers in Wittekerke.
Vanaf 2006, na de tijdsprong, vertolkt Michael de rol van Maarten Van den Bossche in Familie. In 2013 werden er vier acteurs aan de deur gezet, waaronder ook Heidi De Grauwe en Michael zelf. In 2014 werd hij door de makers van Familie zelf gevraagd om terug te keren in de reeks. Michael wilde enkel terugkomen op voorwaarde dat ook Heidi De Grauwe zou terugkeren. Met een goed verhaal keerde hij samen met zijn tv-partner Heidi terug in Familie. Een jaar later moet Maarten opnieuw de reeks verlaten. Het personage keert wel kort terug ter gelegenheid van 25 jaar Familie.
Ad blocker interference detected!
Wikia is a free-to-use site that makes money from advertising. We have a modified experience for viewers using ad blockers

Wikia is not accessible if you've made further modifications. Remove the custom ad blocker rule(s) and the page will load as expected.