Seizoen 2 - 7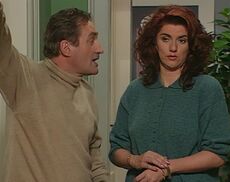 Monique Stevens en Didier De Kunst leren elkaar kennen tijdens het proces van Peter Van den Bossche. Didier is de rechter die Peter vrijspreekt en Monique was aanwezig tijdens de zitting. Monique zit middenin de scheiding met Jan Van den Bossche en de vrouw van Didier is al enkele jaren overleden. De twee worden verliefd en Monique trekt in bij Didier samen met Mieke Van den Bossche en Bart Van den Bossche. 
Tijdens het vijfde seizoen trouwt het koppel voor de kerk. Monique en Didier zijn nog enkele jaren gelukkig, al weet Monique niet dat Didier snode plannen heeft om Guido Van den Bossche te vermoorden. Pas tijdens het zevende seizoen wordt duidelijk dat Didier achter de aanslag tegen Guido en Claire De Ruyter zit. Monique verlaat Didier.  
Lees Meer
Voor meer informatie over het huwelijk van Monique en Didier, zie hier. 
Ad blocker interference detected!
Wikia is a free-to-use site that makes money from advertising. We have a modified experience for viewers using ad blockers

Wikia is not accessible if you've made further modifications. Remove the custom ad blocker rule(s) and the page will load as expected.