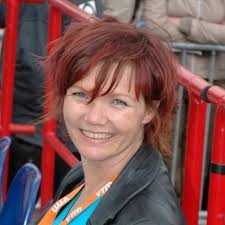 Nele Snoeck
(1973) is een Belgisch actrice. Voor haar studies trok ze naar Los Angeles in de Verenigde Staten, waar ze gastrollen speelde in de series Friends en Ally McBeal. Van juni 2005 tot mei 2009 was ze te zien in de Vlaamse soap Familie op VTM als nanny
Suzy Mariën
. Ze had ook verschillende gastrollen in series zoals Wittekerke, De Makelaar en Spoed. Tegenwoordig is ze niet meer actief als actrice, maar geeft ze stemcoaching aan bedrijven.
Ad blocker interference detected!
Wikia is a free-to-use site that makes money from advertising. We have a modified experience for viewers using ad blockers

Wikia is not accessible if you've made further modifications. Remove the custom ad blocker rule(s) and the page will load as expected.