In het 13de seizoen wordt Peter bijna levend begraven.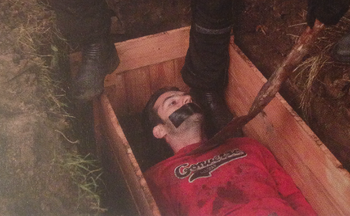 Inhoud
Truyman, de broer van sekteleider Salomon, wil wraak nemen op Peter Van den Bossche omdat hij heeft getuigd op het proces tegen Salomon en zijn sekte. Truyman ontvoert Peter en heeft een gruwelijk plan. Hij wil Peter levend begraven. Dankzij een paar tips dat Trudy heeft gekregen kan ze Peter terugvinden samen met de politie. Ze kunnen Peter net op tijd bevrijden.
Trivia
Gunther de Batselier werd echt begraven en de opnames waren dus ook echt riskant.
Ad blocker interference detected!
Wikia is a free-to-use site that makes money from advertising. We have a modified experience for viewers using ad blockers

Wikia is not accessible if you've made further modifications. Remove the custom ad blocker rule(s) and the page will load as expected.