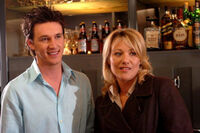 De
QV
was het vaste stamcafé van de familie Van den Bossche van seizoen 15 tot het begin van seizoen 17. Oorspronkelijk werd het café uitgebaat door het koppel
Elke Baertsoen
en
Rik Ghijselinck
. Aan het begin van seizoen 16 wordt echter duidelijk dat Rik ervandoor gegaan is. Elke krijgt in het café sindsdien de hulp van
Lobke Corneel
. 
Tijdens het 16de seizoen is dit vooral het stamcafé van de vriendengroep van Maarten Van den Bossche, Leen Van den Bossche en Pierrot Van den Bossche. Maar ook de werknemers van VDB Electronics komen hier geregeld een broodje eten tijdens hun middagpauze.
Het café verdween uit beeld in het begin van het 17de seizoen, nadat Elke het café had verkocht en de jongeren het niet konden vinden met de nieuwe eigenaar. Elke moest kiezen tussen het café en haar restaurant De Lork, omdat ze de twee niet langer kon combineren in haar eentje. Al snel wordt het café van Dimitri Roels de vaste stek van de familie.
Werknemers bij einde
Vorige Werknemers
Ad blocker interference detected!
Wikia is a free-to-use site that makes money from advertising. We have a modified experience for viewers using ad blockers

Wikia is not accessible if you've made further modifications. Remove the custom ad blocker rule(s) and the page will load as expected.