Seizoen 16 - 17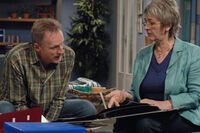 Rob Gerrits
en
Isabelle Solie
waren al jarenlang vrienden toen ze tussen
seizoen 15
en
seizoen 16
een relatie begonnen. Isabelle woonde samen met haar
moeder
in dezelfde duplexwoning als Rob en zijn vrouw
Rita
. Isabelle en Rita waren goede vrienden, maar na de scheiding tussen Rob en Rita, begonnen Rob en Isabelle dichter naar elkaar toe te groeien. Vooral omdat ze samen voor Rita zorgden, die opnieuw verslaafd was aan alcohol.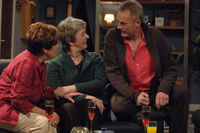 Isabelle is echter zeer jaloers en voelt zich onzeker in haar relatie met Rob. Ze is enkele jaren ouder, en bovendien vreest ze dat Rob nog steeds gevoelens heeft voor zijn ex-vrouw. Rob probeert haar gerust te stellen en vraagt haar ten huwelijk. Isabelle ondergaat een makeover, en probeert zich ook jonger te kleden. Terwijl ze hun huwelijk aan het voorbereiden is, wordt het duidelijk dat de problemen zich blijven opstapelen. Het leeftijdsverschil blijft een heikelpunt en Rita blijft tussen de twee instaan. Isabelle vraagt aan Rob om te kiezen tussen haar en Rita, en wanneer hij dat niet kan, is het voor Isabelle duidelijk. Ze maakt een einde aan hun relatie. 
Isabelle begint nadien een relatie met haar ex-vriend André Verhelst en Rob vindt opnieuw liefdesgeluk bij Els D'hollander. 
Ad blocker interference detected!
Wikia is a free-to-use site that makes money from advertising. We have a modified experience for viewers using ad blockers

Wikia is not accessible if you've made further modifications. Remove the custom ad blocker rule(s) and the page will load as expected.