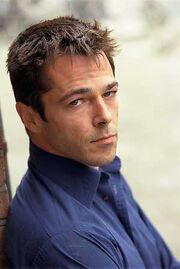 Robert de la Haye
(Heerlen, 3 juli 1965) is een Nederlandse acteur.
Na zijn vwo studeerde hij aan de Studio Herman Teirlinck in Antwerpen. Nadat hij in 1990 was afgestudeerd, speelde hij tien jaar in theatervoorstellingen bij onder andere het Raamtheater in Antwerpen en het Speeltheater Gent.
Zijn zus Mylene de la Haye is een bekende presentatrice. Robert de la Haye is getrouwd met Thuis-actrice Sally-Jane Van Horenbeeck, met wie hij een zoon heeft.
Op televisie speelt hij in series in zowel Nederland als België. In Vlaanderen is hij tegenwoordig vooral bekend om zijn rol van dokter Victor Praet, die hij van september 2009 tot het mei 2013 vertolkte in de televisiesoap Familie. Voordien had hij in Vlaanderen ook hoofdrollen in de series Veel geluk, professor!, Spoed en Wat Nu Weer!?.
Televisie
Periode
Rol
Serie
Foto
2014
René Koelewijn
Flikken Maastricht
2014
Entourage van Marco Borsato
Lang Leve
2013
Rudi Verkempinck
Binnenstebuiten
2009 - 2013
Victor Praet
Familie

2011 - 2012
Axel Verstraeten
Thuis

2011
Tim
Ella
2010
Alex
F.C. De Kampioenen
2010
Meneer Ter Veer
Spangas
2008
Detlef
De Smaak Van De Keyser
2008
Marco Mulder
Zone Stad
2003 - 2008
Niels Richter
Onderweg naar morgen

2008
Eric
Roes
2007
Hanz Kriminalsky
Mega Mindy
2006
Didier Van Calster
Witse
2006
Meneer Duo
Het Huis Anubis
2006
Coach
Aspe
2004
Journalist
Wet & Waan
2003
John Hoogland
Ernstige delicten
2002 - 2003
Producer
W817
2002
Robin Coster
Flikken
2002
Simon Lankmoet
Rozengeur & Wodka Lime
2001
Peter Falcke
Veel Gelukkig, professor!

2000
Dirk Velghe
Spoed

1999 - 2000
Elias Verstraeten
Wittekerke
2000
Niels Wildschut
Wildschut & De Vries
1998
Tony Albarez
Baantjer
1997
Hervé
Windkracht 10
1996
Henk
Unit 13
1995
Ben Sterckx
Wat Nu Weer!
1994
Frank
Een Galerij
1992
Filip
Commissaris Roos
1991
Bernard
Ramona
Ad blocker interference detected!
Wikia is a free-to-use site that makes money from advertising. We have a modified experience for viewers using ad blockers

Wikia is not accessible if you've made further modifications. Remove the custom ad blocker rule(s) and the page will load as expected.