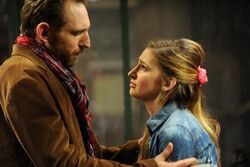 In februari 2013 vertelt
Stefanie
aan haar familie dat ze een nieuwe vriend heeft:
Hans Deschutter
. Hun relatie wordt echter niet goedgekeurd door Stefanies vader
Benny Coppens
. Hans is namelijk een heel stuk ouder dan Stefanie en was bovendien een jeugdvriend van Benny en
Liesbeth Pauwels
. 
Stefanie vindt het verschrikkelijk dat haar ouders Hans niet willen goedkeuren, en probeert de brokken te lijmen tussen Hans en Benny. Wanneer Liesbeth vertelt dat ze zelf nog een relatie met Hans heeft gehad, is dat voor Benny de druppel en hij wil meteen dat zijn dochter het uit maakt. Stefanie wil niet kiezen tussen haar gezin en Hans, en besluit een tijdje bij hem te gaan wonen. 
Enkele dagen later komt Stefanie alweer naar huis. Ze vertelt dat haar relatie met Hans dan toch niet lukte door het leeftijdsverschil. 
Ad blocker interference detected!
Wikia is a free-to-use site that makes money from advertising. We have a modified experience for viewers using ad blockers

Wikia is not accessible if you've made further modifications. Remove the custom ad blocker rule(s) and the page will load as expected.