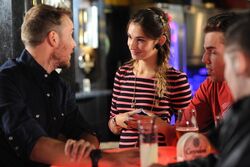 Stefanie Coppens
en
Jens Colpaert
leren elkaar kennen op café op 16 december 2013. De twee voelen zich meteen aangetrokken tot elkaar, maar Jens is niet helemaal zuiver op de graat. Hij is helemaal niet verliefd op Stefanie, maar wil haar gebruiken om zijn gokschulden kwijt te schelden. 
De weken nadien hebben de twee wel een relatie met elkaar, maar Jens stelt zich heel afzijdig op. Stefanie probeert steeds contact te zoeken, maar krijgt vaak geen antwoord. Ze wil op een dag eindelijk weten waarom Jens zo vreemd doet, en hij vertelt haar de waarheid over zijn schulden. Dan vraagt hij aan Stefanie of ze naar bed wil gaan met één van zijn schuldeisers. Stefanie weigert, maar wordt bijna verkracht. Ze kan ontsnappen en vertelt het hele verhaal aan haar ouders. Benny Coppens brengt Jens diezelfde dag nog een bezoekje om hem een lesje te leren.
Wanneer de volgende dag Jens dood wordt teruggevonden, is Benny verdachte nummer één en hij wordt naar de gevangenis gebracht. Stefanie en Arno onderzoeken de moord en vinden de echte dader: Raf, de beste vriend van Jens. 
Ad blocker interference detected!
Wikia is a free-to-use site that makes money from advertising. We have a modified experience for viewers using ad blockers

Wikia is not accessible if you've made further modifications. Remove the custom ad blocker rule(s) and the page will load as expected.