Seizoen 9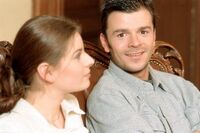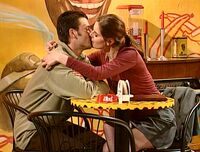 Na haar mislukte romance met
Thomas Maeterlinck
, zoekt
Trudy
troost bij
Koen Lamoen
, die net een breuk met
Brenda
achter de rug heeft omdat ze misschien broer en zus zijn. De twee kiezen ervoor om hun relatie 'casual' te houden, maar Trudy hoopt toch dat ze Koen aan haar grootouders kan voorstellen. Koen ziet dit niet zitten omdat hij maar een simpele jongen is en nooit goed genoeg zal zijn voor de graaf en gravin. Koen geeft uiteindelijk toe, maar zijn bezoekje aan het kasteel van Rullingen is geen succes. Vooral Ghislain vindt Koen allesbehalve een goede partij voor zijn kleindochter en beweert dat hij een 'fortuinjager' is. Koen maakt een einde aan hun relatie.
Seizoen 10
Zowel Koen als Trudy hebben een nieuwe partner gevonden, maar toch belanden ze weer samen in bed. Koen staat echter klaar om te trouwen met Brenda, en Trudy heeft een relatie met Sarah De Kunst. Hun nacht samen heeft echter gevolgen, want Trudy is zwanger. Ze kunnen hun ontrouw niet langer verbergen en Koen laat Brenda voor het altaar staan. Ook Trudy en Sarah gaan uit elkaar. Koen wil echter zijn verantwoordelijkheid niet nemen en laat Trudy in de steek. Trudy besluit daarom een abortus te laten uitvoeren. 
Ad blocker interference detected!
Wikia is a free-to-use site that makes money from advertising. We have a modified experience for viewers using ad blockers

Wikia is not accessible if you've made further modifications. Remove the custom ad blocker rule(s) and the page will load as expected.