Seizoen 10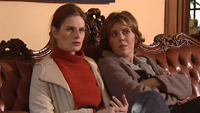 Trudy en
Sarah De Kunst
ontmoeten elkaar voor het eerst tijdens het negende seizoen, maar worden pas een jaartje later een koppel. Samen starten ze een eigen zaak, hun muziekwinkel TopHit. Ook Koen Lamoen wordt als werknemer aangenomen. Wanneer Ghislain te weten komt dat zijn kleindochter een lesbische relatie heeft, wil hij dat ze daar onmiddellijk een punt achter zet. Trudy weigert gedicteerd te worden en breekt met haar grootvader. Kort nadien maakt Sarah alweer een einde aan hun relatie omdat Trudy haar bedrogen heeft met Koen. De twee maken een slaande ruzie tijdens het huwelijk van Koen en Brenda en Sarah heeft het Trudy nooit kunnen vergeven. 
De jaren nadien wordt het duidelijk dat Sarah Trudy nooit heeft kunnen vergeten. Het is dankzij hun relatiebreuk dat Sarah plotseling van vriend tot vijand veranderde. Zeker wanneer Trudy en Peter Van den Bossche verliefd worden, is dat voor Sarah een reden om alle Van den Bossches te haten. 
Ad blocker interference detected!
Wikia is a free-to-use site that makes money from advertising. We have a modified experience for viewers using ad blockers

Wikia is not accessible if you've made further modifications. Remove the custom ad blocker rule(s) and the page will load as expected.