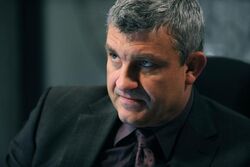 VDB Transport was een onderdeel van de VDB Holding onder leiding van Mathias Moelaert. Het ontstond na de fusie van zijn transportbedrijf met de holding. Toen de economische crisis toesloeg binnen de holding, was Transport de eerste tak die werd opgedoekt.
Personeelsleden bij einde
Ad blocker interference detected!
Wikia is a free-to-use site that makes money from advertising. We have a modified experience for viewers using ad blockers

Wikia is not accessible if you've made further modifications. Remove the custom ad blocker rule(s) and the page will load as expected.