Seizoen 13-20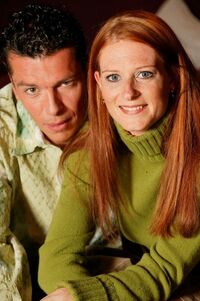 Veronique Van den Bossche en Mario Van de Caveye leren elkaar kennen in 2003. Mario is de nieuwe ontwerper van Bianca Perducci, de ex-schoonmoeder van Veronique. Volgens Bianca is Mario de perfecte man voor Veronique en ze probeert de twee dan ook te koppelen. Het plannetje lijkt te lukken en Mario verhuist naar België met Veronique. 
Het koppel besluit niet meteen te trouwen maar twee jaar later bevalt Veronique wel van een zoontje: Cédric Van de Caveye. Aanvankelijk heette het kind Van den Bossche maar omdat Veronique geen tweede kindje wou, liet ze de achternaam vervangen. Aan het einde van het 15de seizoen trouwt het koppel toch wanneer Mario haar ten huwelijk vraagt. Ze reizen samen met de hele familie naar Kroatië om daar te trouwen. Daar krijgt Mario plotseling twijfels maar na een goed gesprek met een plaatselijke man, komt hij toch opdagen.
Aan hun huwelijk kwam een einde door de vele ruzies die ze hadden. Mario wou bijvoorbeeld een tweede kind maar daar wou Veronique niet van weten. Ook de achternaam van Cédric zorgde voor veel ruzies en Mario heeft Veronique een tijdje bedrogen met Cixi Lao Tsai en later ook met Trudy Tack de Rixart de Waremme. Het koppel gaat definitief uit elkaar.
Na hun breuk hebben ze nog verschillende malen geprobeerd om terug bij elkaar te komen, maar telkens zonder veel succes. In mei 2011 besluit Mario voorgoed afscheid te nemen van Veronique. Samen met hun zoontje verhuist hij terug naar Italië. 
Foto's van het huwelijk
Ad blocker interference detected!
Wikia is a free-to-use site that makes money from advertising. We have a modified experience for viewers using ad blockers

Wikia is not accessible if you've made further modifications. Remove the custom ad blocker rule(s) and the page will load as expected.